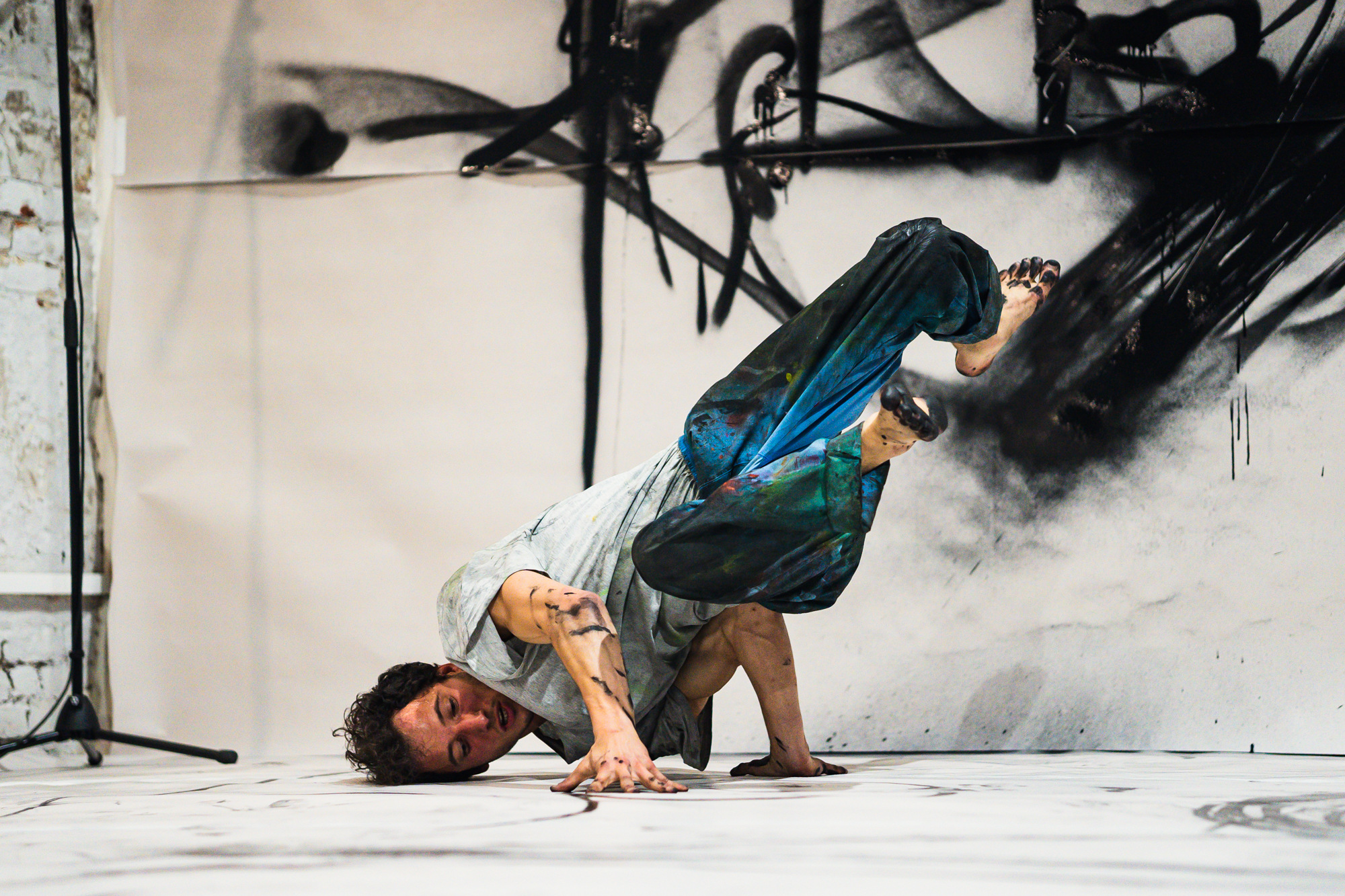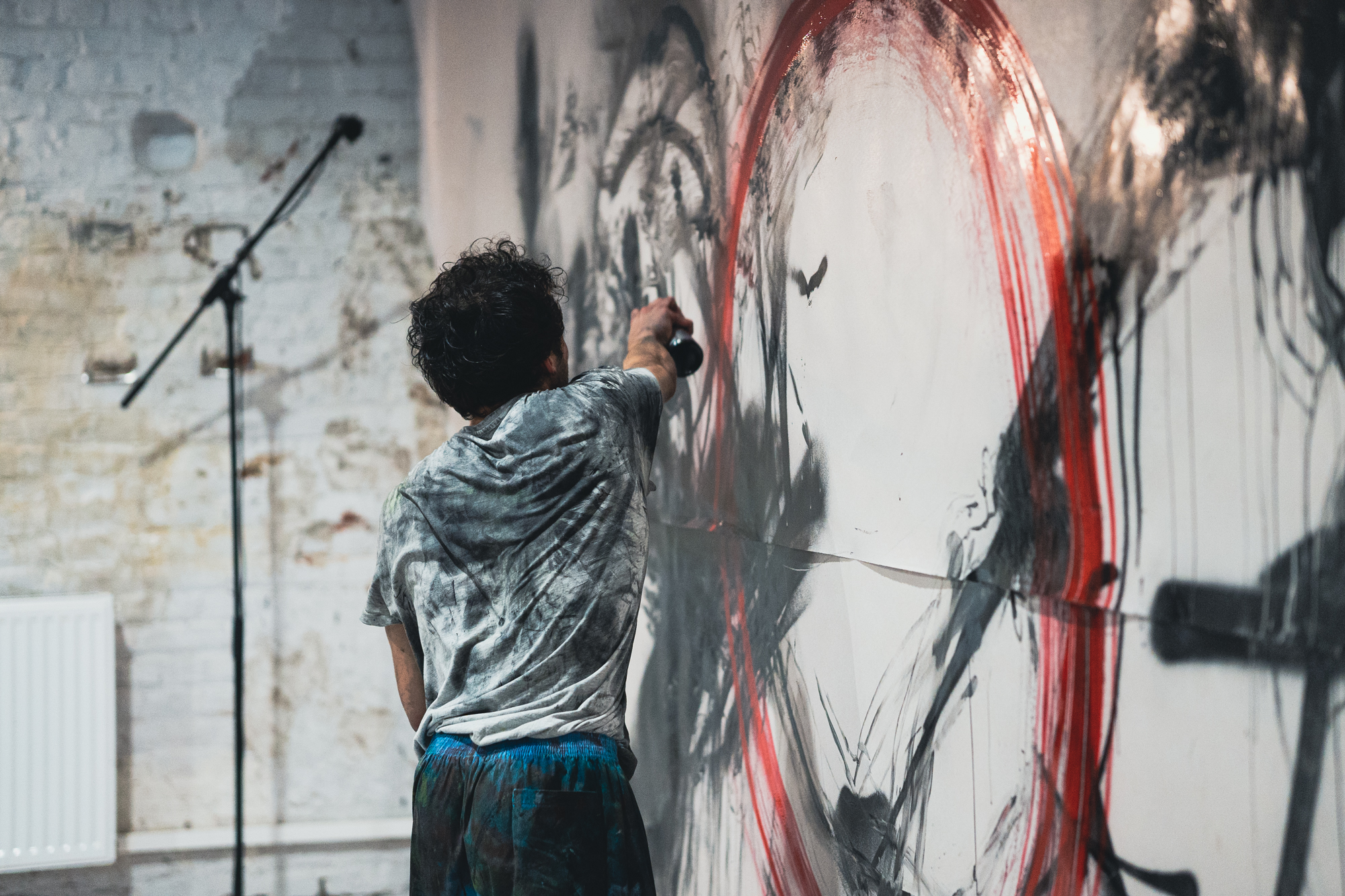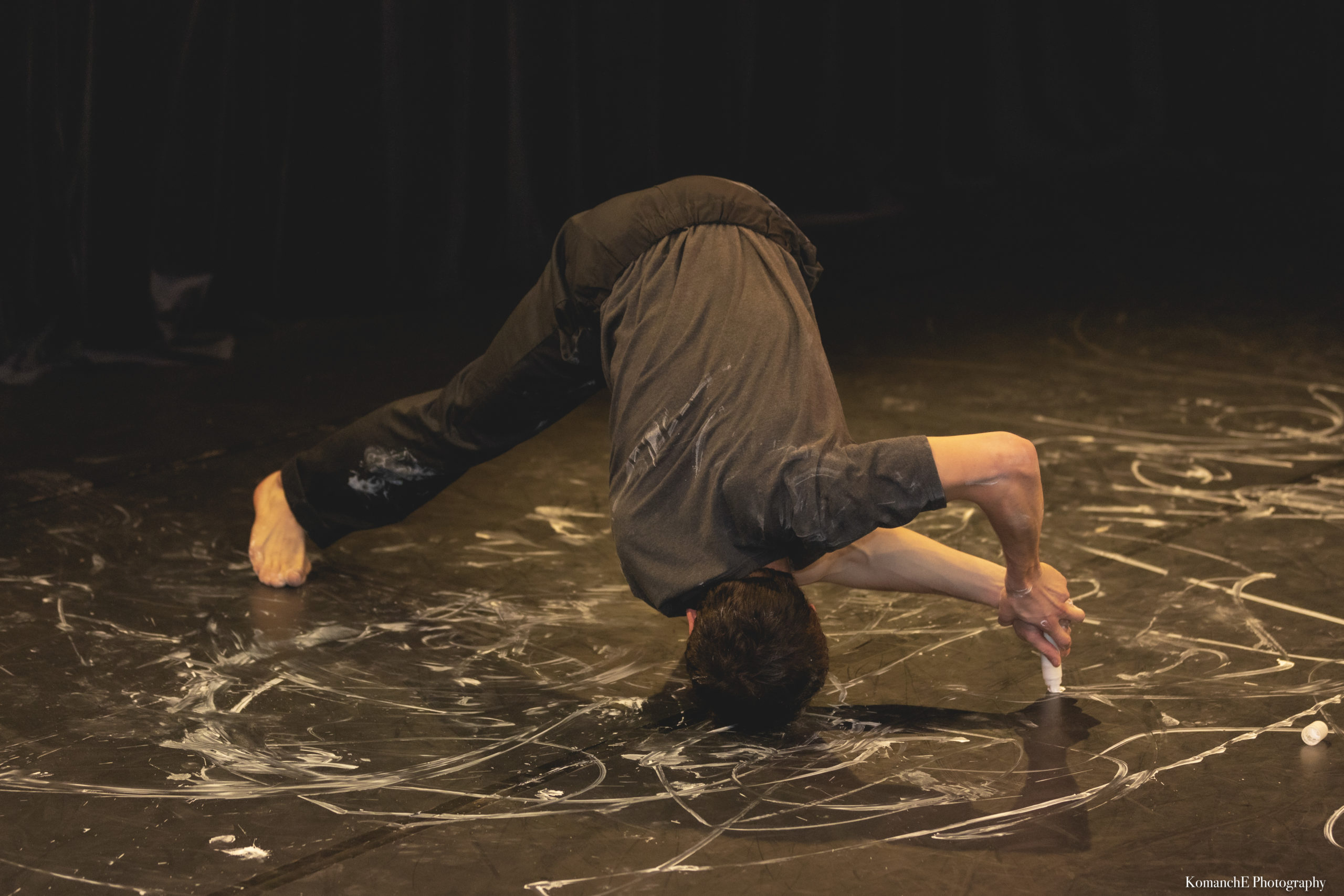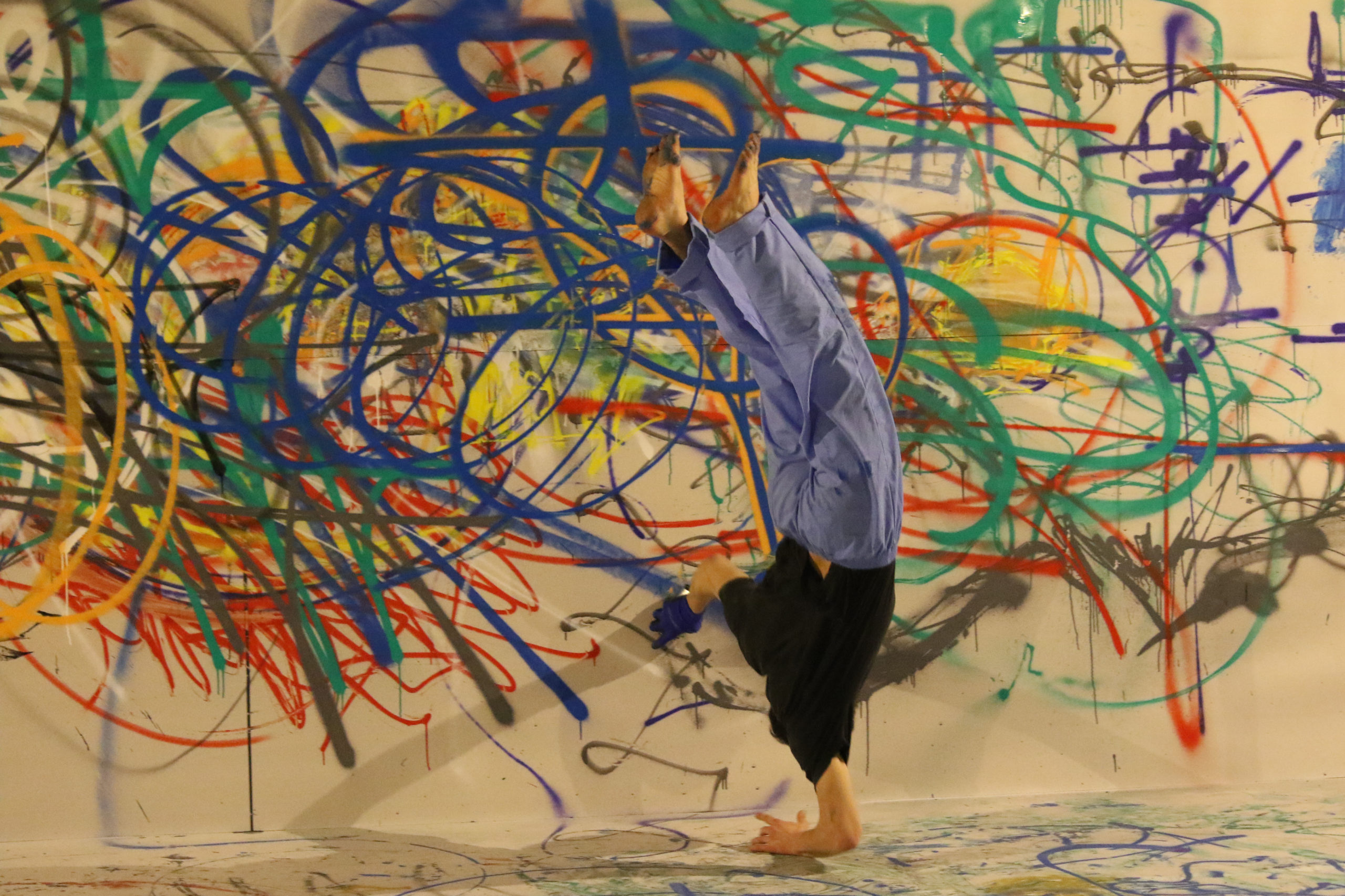 Layers
---
Through his two passions, he discovers similar qualities: training, repetition, carelessness, impulsiveness and relentlessness.
These two disciplines require a lot of determination both in the work and in the research. To try, to fail and then to start again without ever giving up. Here are the key words of the approach of the one who practices these arts.
Although the artist Jules Rozenwajn is alone on stage, his project "Layers" is actually a duo, a dialogue between the man and his tool of expression: a white marker. His work correlates and links his common passions in which he finds the same energy: dance and graffiti.
This project is a mix between dance and physical performance, visual art and choreography where the artist abandons himself totally to a letting go necessary to inspiration and creativity.
Choreography & Interpreter : Jules Rozenwajn
Artistic collaborator : Milan Emmanuel
Choreography coach: Julien Carlier
Art coach: Eyes-B
Sound engineer : Adrien Pinet
Decor and scenography : Peter Mashke
Production & Broadcast: No Way Back
Co-production : Charleroi/Danse
JULES ROZENWAJN - AUTHOR/PERFORMER
Jules Rozenwajn took his first steps in breakdance at the age of 15 by following his cousin in the halls where the Bruxel'Air crew (at the origin of the Cie No Way Back) trains. It is without slackening and with perseverance that he will devote most of his time and his energy to train with the control and the training of his movements. movements. At the same time, he experimented with another hip-hop discipline: Graffiti. The tag brings him to develop his art with precision and to reproduce gestures until mastery of its execution.
He will take part in the creations of company No Way Back/Milan Emmanuel "La danse des Anges Rebelles" and "Abstrkt" as well as in "Dress Code" produced by Cie Abis/Julien Carlier.
MILAN EMMANUEL - ARTISTIC COLLABORATOR
An important figure of breakdance in Belgium, Milan Emmanuel founded the company No Way Back in 2009. In 2012, he was part of the first promotion of the Tremplin Hip-Hop and continues to train in contemporary choreography and hip-hop dance pedagogy. Faithful to the inspiration of the street and rich of an experience acquired with the greatest current directors (Bob Wilson, Kader Belarbi, Robert Lepage, Olivier Py, Rosa Mei, Robert Carsen, Maria Clara Villa Lobos, Jos Houben, Fabrice Murgia and many others). He creates shows at the crossroads of urban and contemporary arts: No Way Back, Les Polissons, Super Showman, FrontX, Danse des Anges Rebelles and Abstrkt. At the same time, he supervises different projects that aim at the professionalization of hip-hop dancers..
Since 2009, Milan has organized the Detours Festival, dedicated to creative urban arts. In 2015, he was entrusted by the City of Brussels with the organization of the "Detours Cyphers" which take place throughout the summer, outdoors on the pedestrian.
It is in the street and in direct contact with the public that he finds the essence and inspiration of his art. Above all, he likes to play with conventions and open up new fields of expression, involving the public to create a total and unpredictable show..
EYES-B - ART COACH
Eyes-B, painter and graffiti artist based in Brussels, has been drawing since he he remembers. He also paints since more than 10 years. He finds his inspiration in digital arts, design and the macro use of organic elements. He has gradually developed his technique using more of a freestyle approach - improvisation and spontaneity guide his work.
Lately, Eyes-B has started to put aside his classic graffiti to concentrate on abstract painting. The legibility of the letter has been replaced by a moving form, images that carry sound. Music is the main driving force behind his work. Rhythm shapes his strokes and dictates his movements, earning him the nickname "conductor". Rhythm, silence, repetition, rupture, dynamism... all aspects of the songs he listens to are highlighted in his paintings.
JULIEN CARLIER - CHOREGRAPHY COACH
Julien approaches dance in a self-taught way through the practice of Breakdance. His first experiences of the stage come from several several interdisciplinary artistic exchanges and projects created in collectives. He participated in the first edition of the Tremplin Hip-Hop in Brussels in 2012 initiated by the choreographer Jean Claude Pambé Wayack. And, more recently, he participates in the training Prototype IV at the Royaumont Abbey in Paris in 2017-18.
He created his first piece in collaboration with the dancer Yassin Mrabtifi, Insane Solidarity, in 2012. He then created two independent projects independently: MON/DE (2015) and Déjà-vu (2016). In 2019, he created the piece Golem which will be selected to participate in several prestigious promotional showcases: Objectif Danse 9 (Wallonia-Brussels Federation), AEROWAVES SPRING FORWARD and the Edinburgh Fringe Festival.
His latest creation, Dress Code, features breakdancers and questions the practice of this discipline. The premiere will take place at Julien Carlier is resident choreographer at Charleroi danse for the next three seasons (20-21, 21-22, 22-23). He is also supported by the Wallonia-Brussels Federation, the Grand Studio, and is part of the Grand Luxe network.